Imagine being transported to a lake side paradise! Welcome to Clair de Lune 2000, the Second Annual HK Convention, set in a rustic resort where soothing natural surroundings meet sophisticated amenities and gracious hospitality.

Come gather all ye HK lovers! Join us on June 26, 2000, the day after the Rosemont International Collectible Exposition, to the land of Clair de Lune. Our journey will take us to The Abbey Resort, Lake Geneva's only full-service lakeside resort. The 334–room resort, located on 90 acres and set on the water's edge in Fontana, Wisconsin, is reserved exclusively for fans of Harmony Kingdom.
**Filling Your Days**
You will have your option of three nights and four days or four nights and five days with the extra day yours to explore the area, relax by the pool and enjoy informal gatherings with other HK collectors. Enjoy the many seminars, workshops, swap 'n sell, raffles, charity auctions, treasure hunts, and much more. Witness a box being created by the hands of the artist, right before your eyes. Experiment with your version of a box in the "Paint-Your-Own" workshop. Hang out with your favorite HK artists and personalities.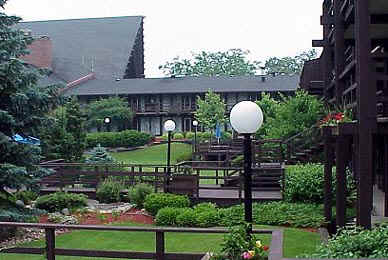 The Abbey Resort
Outside the HK activities, a host of choices is available. Conveniently close to the offerings of Lake Geneva, one of America's most picturesque towns, the resort offers horseback riding, hiking trails, indoor and outdoor pools, health club, water skiing, tennis, and bicycling, with golfing nearby. A children's program is available to entertain the little ones. And, if you are yearning to be pampered, treat yourself to the resorts world-class Fontana Spa. Other points of interest in the area are the Yerkes Observatory (the largest refractory telescope in the U.S.), the Geneva Lake Kennel Club for greyhound racing and factory outlets only 35–40 minutes away.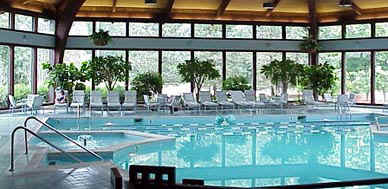 Indoor pool at The Abbey Resort

**Exclusive Pieces**
Harmony Kingdom is planning the introduction of a new series of boxes at the 2000 Rosemont ICE show called Clair de Lune. To commemorate the launch, the exclusive convention box will be from the series.
Each person attending the Clair de Lune 2000 convention will receive THREE exclusive pieces, including a Clair de Lune box figurine carved exclusively for the event; a second exclusive Clair de Lune box figurine; and a special box figurine for Clair de Lune attendees only. In addition, after the event, you will be eligible to purchase a very special piece carved during the event by a Harmony Kingdom master carver.

**The Package Includes**
All HK seminars and workshops
Three exclusive event pieces
Well-appointed accommodations at the resort
Breakfast buffet each day and dinner each night
Welcome lunch on arrival
Special HK evening entertainment (except 6/29)

**Early Bird Offer**
Book early and receive a limited numbered edition HK mini box as our gift to you. This charming dinosaur, Dragon Breath carved by David Lawrence, is a personal favorite of Martin Perry. You will receive your gift 4–6 weeks following payment in full. To qualify for your charming dinosaur, you must book your reservation by September 15, 1999.

**Cost Per Person**
The Clair de Lune 2000 Convention was brought to you by Harmony Ball Company and the HK House of Peers, the council of independent collector clubs. The prices below are the price per person based on double occupancy.
| | | |
| --- | --- | --- |
| Category | Four Nights | Three Nights |
| Adult | $ 750 | $ 650 |
| 3rd/4th Adult in room | $ 532 | $ 449 |
| Child (12–17) | $ 488 | $ 416 |
| Child (5–11) | $ 292 | $ 244 |
| Child (under 5) | $ 100 | $ 100 |
| Single supplement | $ 285 | $ 214 |
If you are not a member of an independent, officially sanctioned Harmony Kingdom club, please add 10% to all above prices. For more information on how to become a member, see page 10 of the Queen's Courier Summer 1999 issue.

**Important Options**
For those wanting transportation to Lake Geneva, chartered buses will leave the Hyatt Regency O'Hare, in Rosemont, Monday, June 26, 2000, and return you to O'Hare International Airport Thursday or Friday. The cost of this service is only $25 per person round trip.
United Airlines will be the official airline for the Clair de Lune 2000 Second Annual HK Convention. A negotiated group discount airfare has been established with United.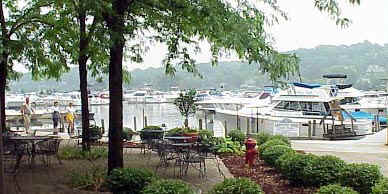 Lake Geneva at The Abbey Resort