You were invited to Harmony Kingdom's First Ever Grand Investiture, held at Medieval Times in Schaumburg Illinois, on Saturday, June 26, 1999, from 8:30 PM to 11:30 PM. This regal and exciting event coincides with the Rosemont International Collectible Exposition.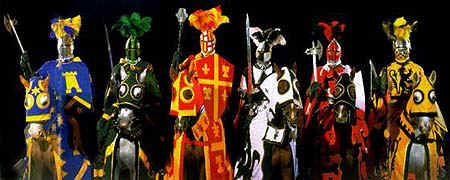 Feast on a hearty four-course banquet served medieval style while serfs and wenches scurry to fill your tankard and attend to your every need. Wipe your hands on the tablecloth, butter bread with fingers, burnish bones with your teeth, and watch for flying drumsticks.
Witness Harmony Kingdom collectors, retailers and sales associates as they are knighted with prestigious and rare Harmony Kingdom medallions at the grand investiture ceremony, be dazzled by the precision of the Castle Guards as they perform colorful military drills on spirited stallions, cheer your knight to victory as he battles for the right to choose his Queen through jousting, sword play and hand-to-hand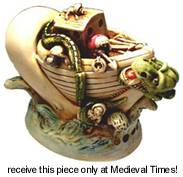 combat, behold all the wonders and grand furnishings of the Medieval Castle, explore the depths or the dungeons, and grimace at medieval instruments of torture.
You must be a member of The Royal Watch Collector's Club to attend, though you may bring friends and family, even if not club members. The cost per person is $95 (US) (no discount for children or infants), which includes bus transportation to and from the event, a four-course banquet, a dazzling live show featuring a cast of over 100 and 25 of the finest trained horses in the world, a Harmony Kingdom Knighting ceremony where orders of merit will be bestowed upon the lucky few,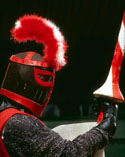 and an exclusive event piece, "Camelot," given as a gift to all attendees.
Medieval Times is 30–45 minutes from the Rosemont Convention Center. You may take your own transportation or travel in the HK coaches. Your pre-purchased ticket(s) will be available for pick-up throughout the show, or prior to departure Saturday evening at the Fountain Entrance of the Hyatt Regency O'Hare. And best of all, the entire castle will be populated by Harmony Kingdom exclusively.
You must be present at the event to receive your event piece, and there is a limit of one event piece per person.